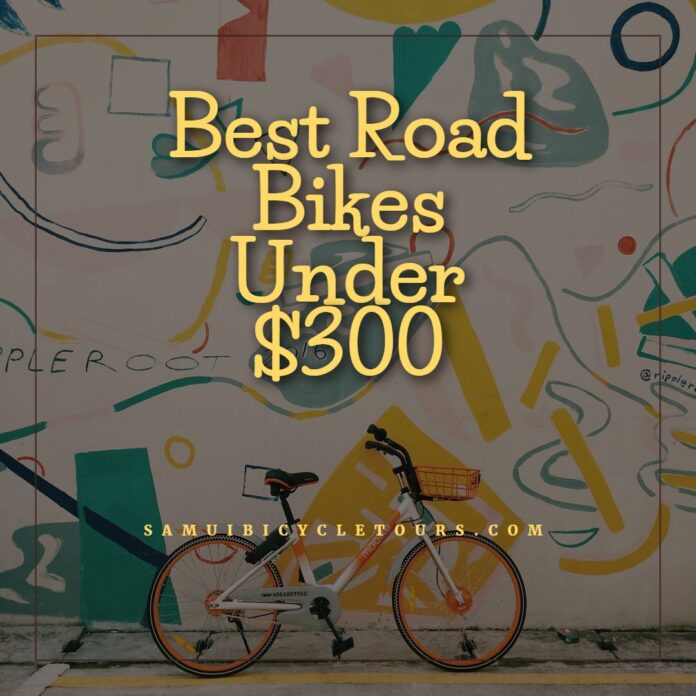 Road bikes are very useful and important products in today's society. Not only do they provide you with easy transportation, but they are also great for exercise as well.
They offer numerous different features and come at different prices, so today, we are going to take a look at some of the best road bikes under $300 you can find on the market nowadays.
Our Pick
Don't Miss
Also Consider
EUROBIKE XC550 Road Bike,21 Speed Bike for Men and Women,54cm Frame Road Bicycle, Disc Brake Adult...
Schwinn Kedzie Single-Speed Fixie Road Bike, Lightweight Frame for City Riding,28 inches, Blue
AVASTA Single-Speed Fixed Gear Urban Commuter Bike for Women and Men,Light weihgt Unisex Fixie...
Our Pick
EUROBIKE XC550 Road Bike,21 Speed Bike for Men and Women,54cm Frame Road Bicycle, Disc Brake Adult...
Don't Miss
Schwinn Kedzie Single-Speed Fixie Road Bike, Lightweight Frame for City Riding,28 inches, Blue
Also Consider
AVASTA Single-Speed Fixed Gear Urban Commuter Bike for Women and Men,Light weihgt Unisex Fixie...
Getting a cheaper bike does not necessarily mean that you will get an inferior product. We have done thorough research and found multiple road bikes under 300 dollars that come with various features that will work out for you.
All of these bikes suit this particular budget and provide excellent quality and durability. We have assembled the list of these products in the section below, so let us dive in.
List of Best Road Bikes Under $300
1. Eurobike Dual Disc Brake XC550 Road Bike

Coming from the Eurobike store, this XC550 model is a good-looking road bike that boasts sleek black color with flashes of red and white. You can choose between two designs of rims – lightweight multi-spoke and more modern looking 3-spoke design.
If you equip multi-spoke rims, the bike will weigh around 14kg, and using 3-spoke mag rims will get you the weight of 16kg. Although this does not make it the lightest bike ever made, it is light enough to get you through your daily exercises and sturdy enough to take quite a lot of beating.
The frame is made of steel, so you should be warry, so the paint does not chip to reveal the base metal, as this might show the signs of rust as time passes. Front forks, handlebars, stem, tubes, stays, and posts are all made of steel as well.
You also get 700 x 28 tires for standard-sized wheels for road bikes. Eurobike can also accommodate 32mm wide tires in case you wish to change from the ones that you get with the bike.
2. Kent Gzr700 Road Bike, 700C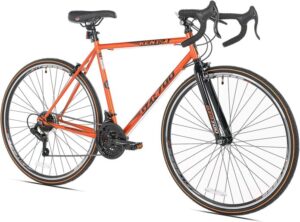 The Kent Gzr700 is a cost-efficient and sturdily constructed road bike that uses Shimano stem shifters to ensure a smooth shifting and riding experience. It features a 21-speed range, suitable for casual and advanced bikers alike.
Although this bike comes at an affordable price, this does not compromise on quality. It features a tig welded, high tensile steel frame and fork, which adds a lot of points for durability and longevity. Kent Gzr700 also has reliable derailleurs that ensure excellent shifting.
The breaks and alloy clippers allow you to stop very fast, providing a much smoother and safer ride, which is an excellent feature for beginner riders. The sleek and streamlined body of the bike is excellent for picking up speed and keeps you well-balanced on the road.
This bike also boasts high-profile alloy Vitesse 36-inch rims that give it a premium look and deliver an excellent riding experience. The seat of Gzr700 is very comfortable, and it can carry a 250-pound weight capacity. Overall, it offers excellent value for money and is well worth checking out.
3. PanAme 26 Inch Road Bike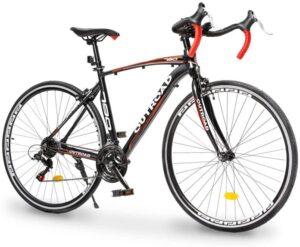 Coming from the PanAme store, this 26-inch road bike is available in four different colors for you to choose from. It is a cost-efficient solution that requires very little time to assemble provides excellent value and a smooth ride.
This bike has an aerodynamic design, and its streamlined shape provides you with minimal resistance during rides and grants better handling. The bike features 21 speeds, and you are also provided with a shift lever, front derailleur, rear derailleur, and v-brake. This groupset provides quick-shifting and unparalleled responsiveness.
The frame is made of lightweight aluminum material that is quite durable and provides better bearing capacity than carbon steel. The seat and handles perfectly accommodate any body shape and provide smooth and comfy riding.
This bicycle comes 85% assembled, leaving you only to install the front fork, front wheel, seat, and pedal, which is very simple since you are also provided with precise instructions on how to do so.
4. Giordano Aversa Aluminum Road Bike

This aluminum road bike comes from the Giordano store, and it is available in two sizes – small and medium. It is a bicycle that is generally designed for women, although the design of the frame makes it a good option for men as well.
The frame of the Giordan Aversa is made of lightweight aluminum allowing you to ride at very high speeds without too much effort. The bike is so light that you can easily lift it with one hand, and propelling it forward does not take much energy and muscle power.
It features 14 speeds that are suitable for road riding throughout the city or riding on reasonably flat roads. This bike is not the best solution for very high speeds and downhill riding, but it will do a good job and get you moving pretty fast.
Giordano Aversa features dual-grip style handlebars that can be held horizontally, the same as on a standard bike which is excellent for casual riding. The handlebars also come with high-quality wraps that provide you with excellent grip, especially in slippery conditions.
5. Hiland Road Bike 700C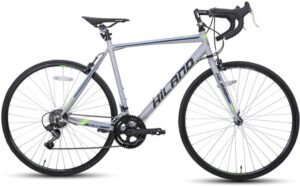 The Hiland road bike 700c comes from the HH Hiland store, and it is available in 6 colors and 4 sizes for you to choose from. It has a classic road bike look that visually seems like a much more expensive product.
The frame is made of aluminum and features a threadless headset which is an excellent addition for bikes in this price range. With this, you are provided with the option to upgrade the fork, and you also get much better steering.
The wheels are double welded and allow you to get away with accidentally hitting potholes or riding your bike to the curb, which is a very nice feature for such an entry-level road bike. The bicycle also comes with high-performance tires that ensure an even better riding experience.
The bike comes 85% pre-assembled, and it is quite easy to put together since you are provided with free assembly tools and pedals.
6. Qazqa 26 Inch Mountain Bikes Road Bicycle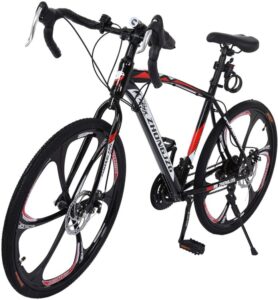 Coming from the Qazqa store, this road bicycle is super lightweight, providing you with a very fast and smooth riding experience. Although it provides a less comfortable ride than a hybrid, it is a very fast option and great if you have a 5 mile plus commute.
This bike features a lightweight aluminum frame and has quick-release wheels attached to it. These wheels make changing a tube a much easier and smoother job that will take much less time.
Qazqa road bike also features a quick-release seat clamp which makes adjusting the height of your seat fairly easy. The bike is equipped with a Shimano groupset that enables you to switch gears fast and easy.
It also features Shimano's thumb shifters and derailleur and also comes with free pedals and comfortable seats. The brake system consists of mechanical disc brakes that enable you to stop really fast, which is an excellent feature for beginners and casual riders.
7. Schwinn Kedzie Single-Speed Fixie Road Bike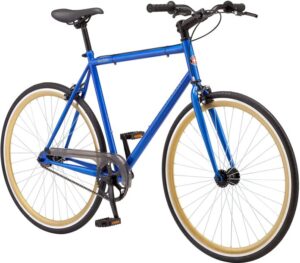 When fully assembled and tuned by the mechanic, this single-speed road bike is an excellent short-distance bike for city rides. It provides a smooth riding experience and exceptional performance.
The bike features a steel racing frame and suspension fork that grants you a reliable and comfortable city ride. It boasts advanced gear technology that has a 46T by 18T single-speed drivetrain, allowing you to do the flip flop hub.
Schwinn Kedzie bike comes with 700c wheels with 32H alloy rims that offer excellent stability and strength for better speed and performance whenever you take it on the road. It also features front and rear caliper brakes that allow you to stop really fast and with ease.
The bike does not come assembled, but doing this is pretty easy, although you will likely get better performance if you hire a mechanic to tune it and set it up.
8. Takara Yuugen Single Speed Flat Bar Fixie Road Bike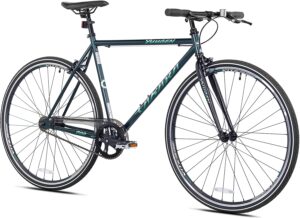 Coming from the Takara Tomy store, this single-speed road bike is designed to suit bike riders with simple needs. It is available in medium and large sizes that come at a very affordable price.
This bike excellently utilizes a flip flop hub for fixed gear or freewheel single-speed modes featuring 29-inch alloy wheels and 700c tires. These tires are pretty standard for road bikes and grant you a smooth and easy ride.
Takara Yuugen is very nice and light, and it is much better suited for basic transportation rather than performance. This is partly due to its solid steel construction since it provides reliability and sturdiness in various weather conditions.
This bike is an exceptional choice if you are looking for a budget bike with fixed gear. The seat and handlebar are likely the only downsides of this bicycle, so you should consider upgrading them.
9. YUEBM 26-inch Road Bike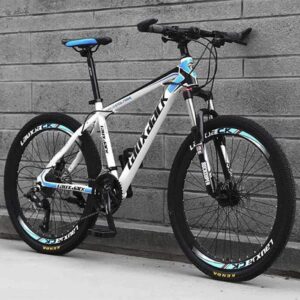 Coming from the Yuebm store, this road bike is available in 3 different color patterns for you to choose from. It comes at a very affordable price and gets you great value and smooth, high-level performance on the road.
This bike features a strong high-carbon steel frame that is constructed to withstand quite a lot of beating and to provide you stability on rough and uneven roads. It also features an adjustable handlebar that maximizes riding enjoyment and grants a safe user experience.
Furthermore, the Yuebm road bike has 21 speeds that you can switch very fast using your fingertips. It also features 26-inch wheels that are pretty standard for road bikes, and the maximum weight capacity of the bike is around 120kg.
This bicycle comes 80% assembled, and all that is left for you to do is to install the front wheel, handlebar, pedals, seat, and tires which is very simple and will take a small amount of your time.
10. AVASTA Single-Speed Fixed Gear Urban Commuter Bike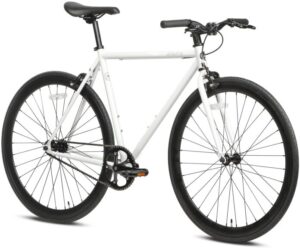 If single-speed simplicity and cost-efficiency are what you are after, then this Avasta's commuter bike might be exactly what you need. Functional for exercise and commuting, this bike is very simple to maintain, very stylish, and visible on the road.
It is available in 4 different colors, and there are 3 sizes for you to choose from (47, 54, and 58). The bike comes with tires that have high pressure, which is excellent for a smooth and stable ride. It also features a racing-style seat, which is very firm yet very comfortable.
The frame is very sturdy and strong, allowing it to absorb the bumps on the road, and it is highly durable, which offers exceptional long-term value. The bike comes with standard 700 x 25c tires, 40 mm deep rims, KMC chain, freestyle pedals, and two sets of brakes.
Assembling of this bike is 85% done, and you only need to install a few parts, which is very easy since it comes with basic assembly tools. The bike offers excellent value for the price and is well worth checking out.
Buying Guide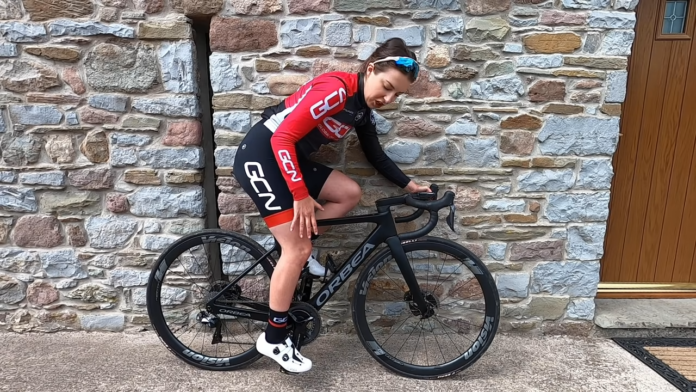 Now that you have read our top choices, it is time to focus on features that are important to look for. Apart from cost-efficiency, you should consider some essential features when buying road bikes. To help you get the best value for your money's worth, we have assembled a list of guidelines to follow in the section below.
Frame Quality
When purchasing budget road bikes, it is crucial to consider the quality of the frame and the overall build quality of the product. It goes without saying that it has to be built to last for a long time. The bike has to possess a strong frame that you can ride effortlessly and confidently, knowing that it will not fall apart and cause you injuries.
That being said, you have to assess the materials used in the manufacturing process. The most popular solutions nowadays are aluminum or steel. Steel will grant you more durability, but it weighs much more than aluminum that can provide you with much more speed.
Wheels and Tires
Same as the frame, wheels, and tires should be durable and well-constructed. Since most of the rider's weight is shouldered by the wheels, you should opt for the ones that will not easily bend or dent, and they should be made of tough and durable materials.
As for the tires, go for the ones that offer decent cushioning that can absorb the vibrations from the road. Since most road bikes do not have suspension systems, most of your control and comfort lie on quality tires.
Brakes
The brakes are one of the most important considerations when looking for a budget road bike. Look for rim brakes or disc brakes since both are excellent solutions and offer you superb stopping power and much-needed reliability.
Brand
Look for the brands that have stood the test of time and have a history and tradition of manufacturing reliable and quality bikes. Purchasing the product from the off-brand company can result in poor performance and might endanger you and put you to risk of injuries due to low-quality components.
Frequently Asked Questions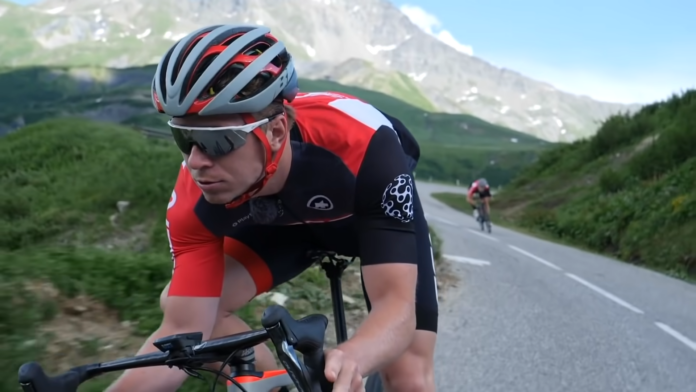 Are road bikes good for long distances?
Road bikes are not the best choice for long distances due to their lightweight and narrow tires, which makes them less durable than mountain bikes, for example.
Are cheap road bikes worth the money?
Although cheaper road bikes are not as good as much more expensive models, they are still a worthy investment. You can get excellent quality for the price range from $100 to $300, which will give you the bike with durable frames, rims, and handlebars.
Are road bikes bad for your back?
No, they are not. If you choose the appropriate height of the frame and ensure the right riding posture, you will have a comfortable riding experience without any pain or discomfort throughout the ride.
What is the standard speed for a road bike?
The speed of road bikes relies mostly on the rider's pedaling skills and fitness. However, the average speed on the quality road with good riding conditions and clear surfaces is around 15 mph.
Final Words
Although road bikes typically come with an expensive price tag, you can still find a suitable product if your budget is lower. There are many models that come for a lower price but still offer excellent performance stability.
To get such a bike, you need to do thorough research, and we hope the article we presented will get you closer to this goal. Look for second opinions, read customer reviews, and you will, without any doubt, find the perfect road bike that will suit your needs and meet your budget limitations.
If these weren't enough, check out some other picks from Amazon also: